'Tis the season for decorating your hearth! Your fireplace is the focal point of your living room providing both ambience and comfort—which makes it the perfect space for holiday decorations. Want to learn how to decorate your fireplace mantel for the holidays?
Follow our simple guide to turn your fireplace into a source of holiday cheer this season!
How To Decorate A Fireplace Mantel In 4 Easy Steps 
Decorate your fireplace mantel to your holiday fancy with these four easy steps:
1. Choose a Centerpiece
The holidays are the perfect time to change out your decorations that have been there for the past 11 months. Try decorating with a big wreath, sign of the season, or a shiny mirror.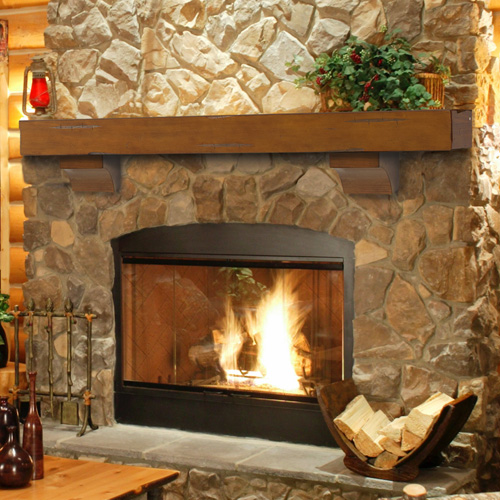 Photo Courtesy of Pearl Mantels featuring 412 Shenandoah Wood Shelf #50 Medium Rustic Distressed Finish
*Bonus tip: You can also jazz up items you already have with holiday colors and sparkly garland!
2. Add Some Trim To Decorate Your Fireplace Mantel 
Add fresh evergreen garland to drape or bough your mantel. If garland isn't your speed, you can add branches, berry strings, or ribbon and bows.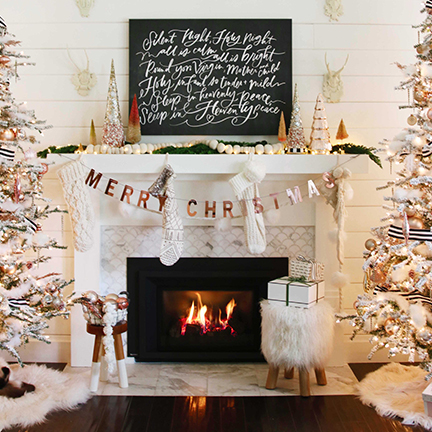 Photo Courtesy of Modern-Glam featuring Regency Liberty LRI4E Gas Insert
As always, make sure that these decorations are a safe distance away from your firebox.
3. Embellish, Embellish, Embellish
Once you established your centerpiece and trim, now it's the time to fill out your mantel with your small figurines.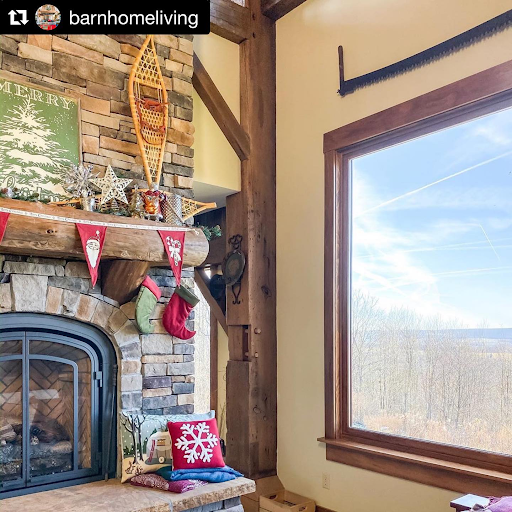 Photo Courtesy of Barn Home Living featuring a Mendota Hearth Gas Fireplace
Some of our favorite holiday keepsakes we've seen from our customers are ornaments, nutcrackers, manger scene, faux snow, or stockings.
4. Light It Up! 
As God said, "let there be light." Your mantel is no exception! Add a touch of sophistication to your hearth with some lights.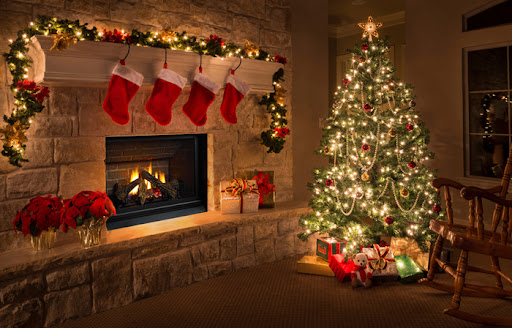 Photo Courtesy of Regency Fireplaces
Add a variety of tall and short candles to frame your centerpiece, or fairy lights throughout the garland to add a soft glow.
Does Your Fireplace Need a Makeover?
Your fireplace is the focal point of your space. Therefore, sometimes decorations alone aren't enough to modernize your fireplace.
Luckily, the expert team at Supreme Fireplace and Hearth has you covered—whether you're looking to upgrade your fireplace, or convert from wood to gas. 
Need to upgrade or modernize your fireplace in the new year? Connect the Supreme team today to learn how!